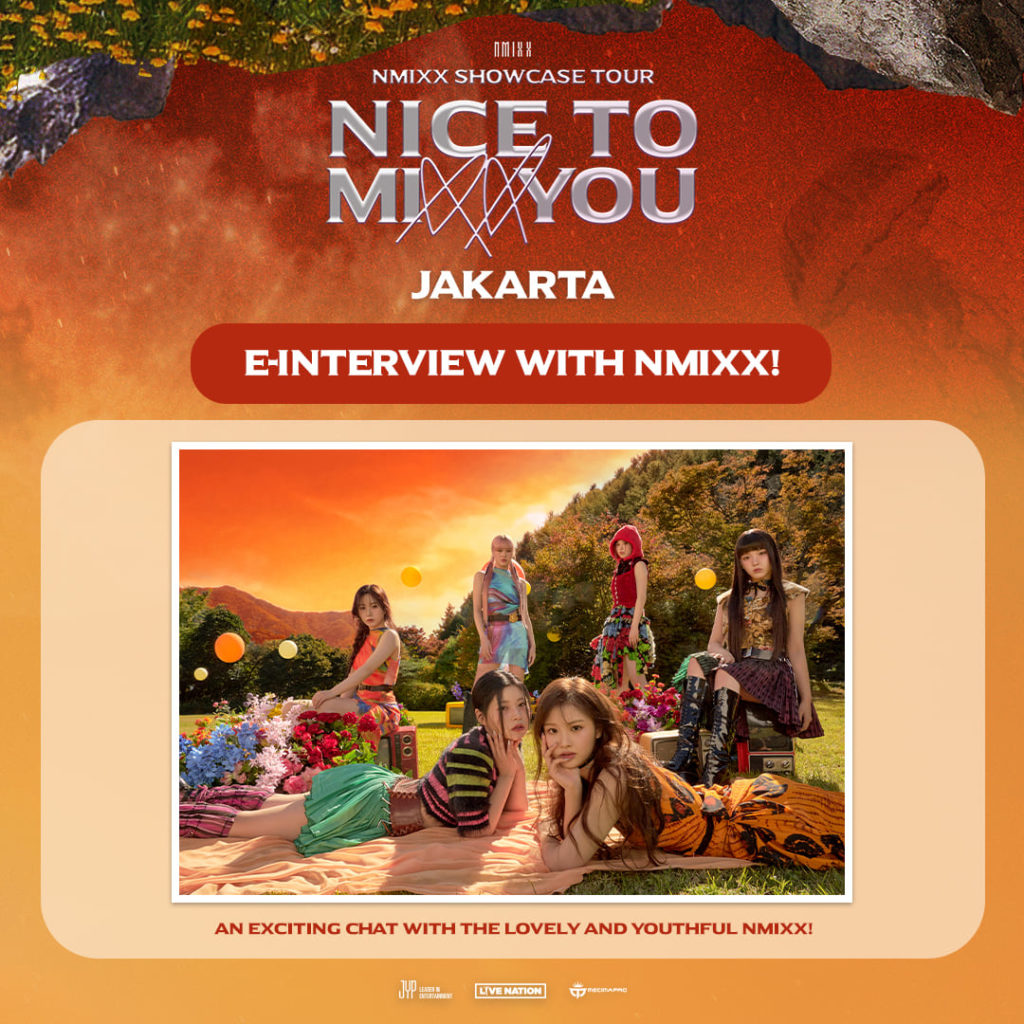 MCP had the incredible opportunity to have a fun chat with the lovely and youthful ladies of NMIXX! Find out more about how excited NMIXX are to visit Jakarta for their first showcase tour tilted <NICE TO MIXX YOU>.
This showcase will be your first time visiting Indonesia, how do you feel?

LILY: Actually I've been to Indonesia on holiday before and I had a wonderful time so I'm even more excited to come this time! I can't wait to experience the amazing culture and food!
Sullyoon: I'm so happy to be able to see many Indonesian fans in person, and I am so excited to make wonderful memories together.

What do you know about Indonesia? Any special place you want to visit or food you want to try?

Haewon: I've only had Nasi Goreng in Korea, so I really want to try it in Indonesia!
Kyujin: I heard that Indonesia is the largest coffee producer in Asia! I want to recommend Indonesian coffee to Haewon unnie, as I can't drink coffee myself, haha. Also, I would love to visit Bali!

You recently released your newest album "expérgo". Can you give us a bit of introduction about it?

Jiwoo: Expression of senses and the change of the world – our album captures a story of NMIXX moving forward, confronting the fear of turning into a giant cat.
Bae: This is our second comeback and our first mini-album! It tells the story of NMIXX facing their fears and bravely moving forward amidst the changes in the world!

Indonesian fans are known to be passionate and energetic! What are you expecting of NSWER Indonesia for the upcoming Jakarta show?

Jiwoo: We, NMIXX, will be full of energy throughout the performance, so I am looking forward to Jakarta NSWERs' energy as well!
Haewon: We look forward to dancing together! Let's have a dance battle!

How is the showcase preparation so far? Are you excited for the showcase tour?

LILY: The showcase has been going good! I'm very excited to meet lots of NSWERs from different countries! I'm curious how each crowd will be. I think I will have a wonderful time on stage.
Kyujin: We have been practicing a lot to be able to do stable live performances, and I'm feeling nervous since it's our first time performing this many songs! I'm excited to showcase all the songs on stage!

What are you expecting from this first showcase tour? Also, for the Jakarta show particularly?

LILY: I hope that NSWERs will have an incredible time at our showcase and that they will sing and dance along to our songs! That would make me very very happy!
Jiwoo: As this is a showcase tour, I'm most looking forward to meeting fans from different regions, and I'm so excited to interact with Jakarta fans, make eye contacts, and communicate with them while holding MIXXSTICKS!

What do your NSWER mean to you?

Sullyoon: NSWERs are indispensable presence that always helps us bring out more strength.
Bae: I think NMIXX exists because of NSWER. They are the first that comes to mind whenever and wherever. I'm always grateful, and I hope NSWERs are happy.

You are all very young and youthful! What are you looking forward to for the future?

Haewon: I hope all members of NMIXX have a healthy and happy music career. I also hope we can perform on stage with the concepts and songs we come up with.
Kyujin: I hope all of us can pursue what we want to do while being healthy and happy!

Please send a special message to your Indonesia NSWER who are looking forward to see you next month!

LILY: Hello Indonesian NSWERs! Thank you for always sending us so much love from so far away! I always appreciate it! I'm so excited to see you soon! I hope you enjoy the show!
Bae: This is my first time visiting Indonesia!!! I'm so honored and excited to meet the fans in Indonesia!! Thank you so much for loving us in Indonesia, and I hope we can meet more often in the future!
We are incredibly thrilled to have NMIXX with us for their first visit to Jakarta! NMIXX SHOWCASE TOUR <NICE TO MIXX YOU> IN JAKARTA will surely be a memorable show for both NMIXX and NSWER Indonesia.
See you very soon, NSWER!